NYC Office Space for Lease
Office sublets in NYC come in many varieties. Sublets can be shared or private office spaces, large or small, and even long-term or short-term. Below is a list of NYC office space for rent, from shared work environments to stand-alone, turnkey private offices. If you need help finding office space for rent in NYC, hit the search button at the top of the page – we'll get back to you pronto!
Office Sublets & Shared Office Space
Let's find an office space that fits your needs:
Finding the Right NYC Office Space to Rent
Whether you're trying to find office space for rent in the Flatiron District for a new tech startup, a class A office space in Midtown East for a hedge fund, or even an individual private office in the Financial District for an attorney, locating the best office to sublet in Manhattan is no small task. From stand-alone, private windowed offices to move-in-ready shared suites, choosing the best NYC office space for your business is important to the future and longevity of your company, as well as employee satisfaction and productivity.
Lease cost is often a company's driving factor in choosing an NYC office space, but there are other factors to consider before the big move. Don't worry -- Office Sublets is here to help. Refill your coffee mug, take a deep breath, and jump into our comprehensive guide to choosing the right NYC office space.
7 Expert Tips to Find the Perfect NYC Office Space
For newcomers, finding the perfect NYC office space to lease may seem simple -- a business only needs to determine an ideal square footage, pick a budget and location, and select all the office spaces that fit the bill. I mean, look up, with all these office buildings in Manhattan, there must be tons of options, right? Well, even though Manhattan has many office sublets with diverse layouts and various sizes, a company's ideal NYC office space can still be hard to pin down. And as you can imagine, competition in New York City is fierce, so being prepared to act quickly can make the difference between leasing office space in NYC or losing it to another company. In short, when looking for an NYC office space, the more specific a business owner can be about their office requirements, the better. We put together our top seven tips to help you narrow down your search for the perfect office space.
1. Know how much space you need
Identify your spatial needs first and foremost. When it comes to choosing your NYC office space, you'll need to know approximately what size office you're looking for. First, identify how many people you need to accommodate. Be sure to consider your company's projected growth rate and leave room for additional employees. Have space to grow!
Now that you know the number of employees you need to accommodate, determine how they'll occupy the space. Do you need private offices for the executives or do the executives share open workspace with the team? Do you intend to have a lot of private meetings throughout the day? Perhaps you need multiple conference rooms and breakout areas. Simply put, the more private offices and conference rooms you need, the more square feet you'll need.
OfficeSublets will help you estimate how many square feet your business will require. Shoot us an email with the number of people your company needs to accommodate and your ideal layout, or simply give us a call to discuss. (You'll find our contact info at the top of this page.)
What is a 'loss factor' in commercial real estate?
One peculiarity about NYC office space which comes as a surprise to many people is the dreaded loss factor. Loss factor is defined as the difference between the rentable area and usable area of an office space. The loss factor is calculated as a percentage by subtracting the usable square footage from the rentable square footage and dividing the remainder by the rentable square footage. It's not as confusing as it sounds: 5000 RSF - 3250 USF / 5000 RSF = 35% loss factor.
Ok, fine. There's a loss factor. But why?? In the 1970s, building owners huddled up and decided to pass along the costs of maintaining the building's common areas directly to the tenants. This means, in addition to the usable square footage of the unit, commercial landlords added a proportionate share of the building's common areas -- i.e. building lobby, elevators, bathrooms, and hallways -- to the marketed or "rentable square footage" of each office listing. Is this just a sneaky way to manipulate the perceived price per square foot of NYC office space, artificially keeping prices lower? Yes. Anything we can do about it? Nope.
How much is the loss factor in Manhattan?
Landlords determine the rentable square footage of their buildings, and frankly, it's more of an art than a science. As such, loss factors for NYC office spaces vary from building to building. Some would call it fuzzy math; we call it "the rubber ruler." Some general rules of thumb: buildings with extra wide hallways and massive lobbies will have higher loss factors; full floor office spaces, as a rule, have lower loss factors. Loss factors are a significant amount of the quoted square footage. A typical NYC loss factor varies from 27% for full floor office spaces to approximately 40% on multi-tenant floors, with an average of 35% for the majority of offices in NYC.
Now that we know about the loss factor of a building, have determined the number of employees we need to accommodate, and know our ideal office space layout, let's estimate how many square feet we'll need.
How many square feet do I need per employee in NYC?
The industry standard is to estimate roughly 80-150 SF (high density) to 150-250 SF (low density) per employee per square foot. For example, a 4,000 square foot NYC office space, which would only measure approximately 2,600 usable square feet (35% loss factor), would fit roughly 10-32 people. That's a very wide range, of course, so think about your office layout requirements. A media company might want a collaborative office environment with an open layout and high-density bench seating. If that's the case, fitting 32 people shouldn't be an issue in most buildings. But if you're running a hedge fund or law firm, the staff will require more private office spaces. A low-density layout might include a large executive office for the CEO, several private windowed offices, and a small bull pen. Both companies will probably require a conference room and kitchen.
The office space testfits below show the same 4,000 square foot office space, one with a high-density layout, the other with a low-density layout.
High Density Layout -- Suitable for 34 people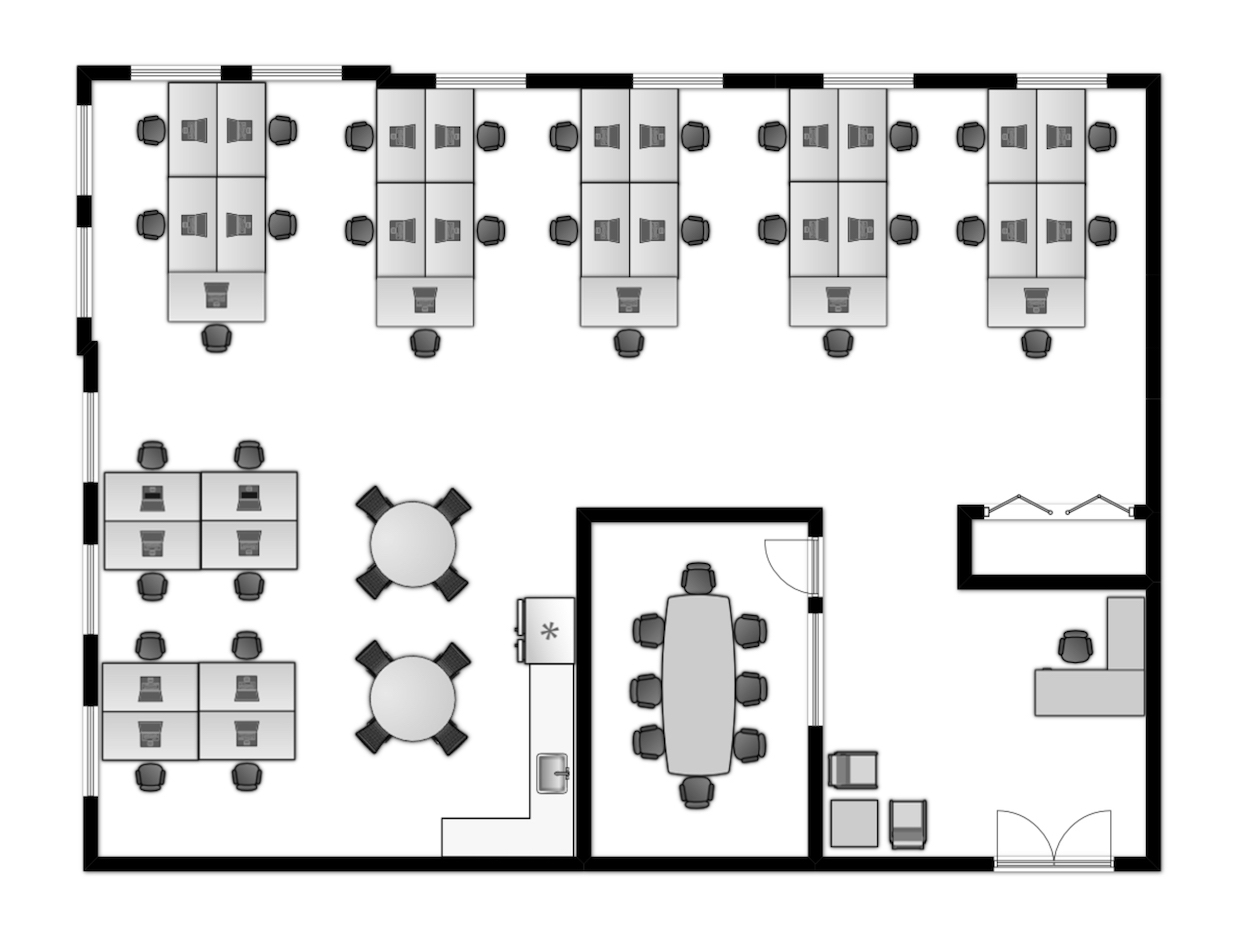 Low Density Layout -- Suitable for 15 people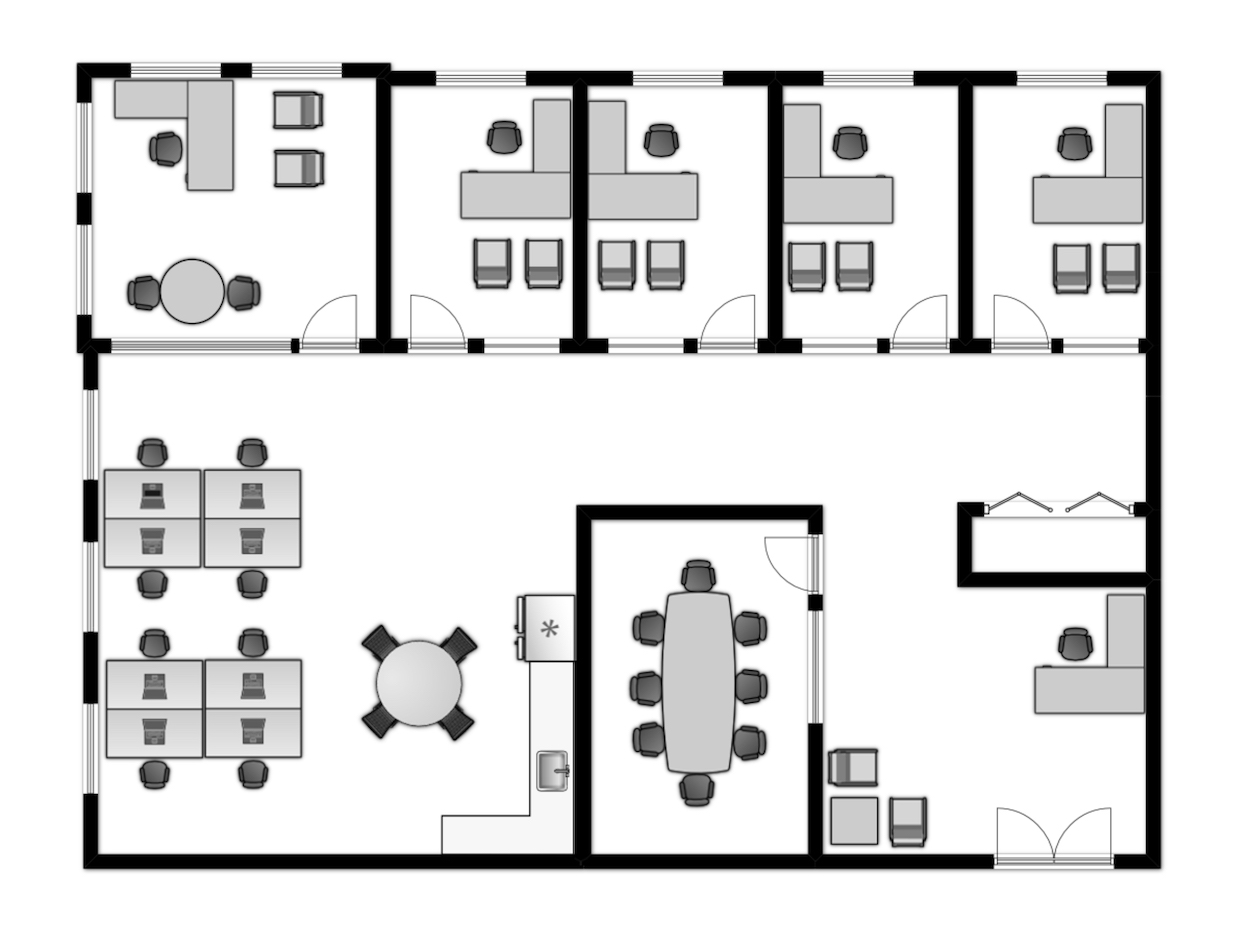 In addition to the workspace, other considerations include seating for lunch or breaks, and access to a kitchen and conference room. Employees are more likely to thrive when they feel comfortable in the office, otherwise it makes for a long day and stress builds up.  When you provide extra space for your employees to relax and recharge, they're able to think more clearly and be more productive through the day. Help them help you!
2. Determine where you want to be
Location will be one of the most important factors in choosing an office space. There are several questions you should ask yourself when deciding the exact location of your NYC office space:
Does your CFO take the MTA to their JOB?
Think about where your employees live, and determine which subway lines and commuter rails are near the neighborhoods and office buildings you're considering. If New Yorkers agree on one thing, it's that riding the subway can be a nightmare. When straphangers must make multiple connections during rush hour, squeezing into sardine cans, don't expect a cheerful disposition when they walk into the office. Fuhgeddaboudit! They've been through the ringer before they've finished their venti soy macchiato. The bottom line, you should try to find an NYC office space with the easiest commute.
How does office space rent in Manhattan compare from one location to the next?
Most people expect the price of an office sublet to rent below market prices, and that's usually the case. However, the principles of supply and demand still apply. If during the course of your NYC office space search you find a lot of suitable office space for rent, this tells us the supply of comparable office space is high, and therefore, demand must be low. You have leverage! On the other hand, if during your NYC office space tour you only find one suitable option, or none, this tells us the supply of suitable offices is low, and demand is high -- expect the office space rent to be higher and less negotiable. For example, many technology and media companies like the appeal of leasing an office space in the Flatiron District. This is an extremely popular neighborhood for the tech industry in New York City, as are contiguous neighborhoods like Union Square, NoMad and Chelsea. Supply is low, demand is high. As a result, the rent for office space in the Flatiron District reflects these market conditions.
3. How long will your company need to rent office space?
There are two main reasons companies consider subleasing NYC office space. One is the price, the other is the term. The lease term is defined as a fixed period of time when the lease agreement is in force. Let's start with traditional leases, which are signed directly with a landlord. Most landlords in NYC prefer a 5-year lease term, although most will consider a 3-10 year lease term, depending on the amount of construction work required, or not required. If the landlord doesn't have to do much work to an office space to prepare it for a tenant, they'll usually consider a 3-year term. A 3-year lease term is almost always the minimum lease term a landlord will accept.
One advantage of subleasing NYC office space is the sublease term is often less than 3 years. Not always though, because the sublease term is reliant on the remaining period of time in the master lease agreement. For example, a law firm who has office space for rent in NYC could have signed a 10-year office lease with the landlord, and decided to sublease the office after 2 years in the space, which yields an 8-year sublease term. Or the law firm could have signed a 5-year office lease and decided to sublease the office after 3 years, yielding a 2-year sublease term. Most companies sign 5-year leases in NYC, so it stands to reason that many sublets are shorter than 3 years.
Another advantage of subleasing office space is, companies can rent fully furnished office space with desks and chairs. Like everything else in the city, the cost of moving furniture is expensive. This is one reason why companies who have office space to sublease in Manhattan leave the furniture behind. If your NYC office space comes with high quality office furniture, like Teknion or Steelcase, you might have to pay for it. But most of the time the furniture is included at no additional cost and becomes the property of the subtenant. Keep in mind, now you own the furniture and it's your responsibility to schlep it at the end of the sublease term.
4. To Have and Have Not: Creating your office space checklist
Did you know the classic film To Have and Have Not was Lauren Becall's debut? She and Bogie really had some chemistry, didn't they… Focus!  One way to stay focused is to create a checklist. What are your must-haves? What would be a bonus, but not critical? What do you want to avoid? The lists below provide a few of the most common hot buttons for office space tenants.
Office space must-haves

Good natural light
Tenant-controlled AC
Furnished office space
Pre-built office space
Wired for internet
Doorman building
Fiber optic internet

Office space must-not-haves

Only 1 passenger elevator
Old carpet
Tiled ceilings
Slow cable internet
Fluorescent lighting
Dark, rear windows
Loud neighbors
So sit down and write a detailed list of the amenities your business needs to operate at its best. This checklist will help you better understand your office space requirements and narrow down your search by eliminating problematic buildings and unsuitable office spaces that don't make the cut.
Another advantage of subleasing NYC office space is that the vast majority of spaces will be pre-wired for internet. Running hardwired internet lines is an expense that usually falls to the tenant, not the landlord, so, assuming the space was previously occupied as an office space for another company, that company would have wired the space before they moved in… and your company reaps the benefits. Keep in mind, your business may not require wired internet connections. These days many run solely on WiFi.
My guess is you probably want a beautiful NYC office space with wood floors, high ceilings, and big, bright windows. Amiright!?? But what things do you want to avoid or eliminate? Midtown Manhattan is known for tall Class A office towers that often reach 50+ stories, and even office buildings in Chelsea might have 12+ stories. So if your office space is located in the rear of a building, the natural light situation might be dismal, especially if the unit is on a lower floor. Picture a 2nd floor office space located in the rear of a building. You probably have an unobstructed view of a brick wall. But if you're a film editor who requires a dark, quiet place to work, this may be your ideal NYC office space. There's something for everyone.
Consider Office Security
Do you like surprise guests popping into your office unannounced? (I'm not talking about your bubby, Ethel, dropping off a box of your favorite black-and-white cookies.) If you don't want surprise guests, maybe a building with a doorman or security guard is important. Many businesses feel safer working in secure office buildings, especially when colleagues work nights and weekends. The level of security of NYC office spaces varies as well. Verify the hours of operation and check-in procedures for guests. Many office buildings in Midtown Manhattan and the Financial District have strict security. This means, during check-in at the security desk, a guest's name must appear on an approved list and a photo ID must be shown before access is granted. DNA sample and fingerprints optional.
Maybe you're not as concerned about security, but you'd like to have a doorman greet your clients and direct them to the floor where your office is located. And even if a building doesn't have a security guard that doesn't mean there is no security. Most buildings have live video monitoring, and the lobbies of many unattended buildings remain locked throughout the day, accessed only with keycard or buzzer system.
5. Know when to start your office space search
We're often asked how long it takes to sublease an NYC office space. We suggest being conservative with your estimates and -- just like catching a flight at JFK -- allow extra time for delays. Knowing the basic steps to leasing office space in Manhattan and the estimated time to complete the process is key. Set your expectations.
Negotiate the business points (1-2 weeks)
Your real estate broker will draft a non-binding, written proposal outlining the basic terms of the deal. This is your offer to sublease the NYC office space. Some of the standard points in a proposal are: offer price, term of the sublease, possession date, escalations, real estate taxes, electricity charges, landlord or sublandlord's work, incentives, security deposit, among other business points specific to the particular space or deal.
Once a potential new tenant ("Subtenant") has reviewed the draft proposal, the document is sent to the current tenant of the space ("Sublandlord"). Most likely, the Sublandlord will submit a counter-proposal, and back and forth it goes until an agreement is reached. Note: Before an agreement can be reached, the Sublandlord will request and review the Subtenant's financial information to ensure they are a credit-worthy subtenant and determine a suitable security deposit. On paper it might not seem like this step should take 2 weeks, and sometimes it doesn't, but many things can cause delays: questions have to be answered, decision-makers are traveling, or it becomes a challenge to reach an agreement on specific terms.
A sublease agreement is drafted, reviewed, and signed (2 weeks)
Once the Subtenant and Sublandlord reach an agreement, a term sheet is drafted outlining the business points of the deal. This term sheet is sent to the Sublandlord's attorney who drafts the Sublease Agreement. Once complete, the Sublease Agreement is sent to the Subtenant's attorney to review. Inevitably, the Sublandlord's attorney will request changes (referred to as "lease comments") to the Sublease Agreement, and again, back and forth it goes until an agreement is reached. When the Sublease Agreement has been finalized, both parties sign the document. At this point, the attorney usually receives a check for the security deposit and holds it in escrow.
Landlord reviews sublease and written consent document is drafted (2-4 weeks)
The executed Sublease Agreement and Subtenant's financials are sent to the landlord's attorney to review. The landlord may request additional information from the Subtenant: business history, nature of business, principal's background information, current address, and other items. The landlord usually has a set number of days to either accept or reject the Sublease Agreement and/or Subtenant. More often than not, they have 30 days to give consent. It's important to note that approving subleases ranks low on many landlords' priority lists. In their view, they already have a tenant who is paying rent for the space, so what's the rush. When the landlord agrees to approve the Subtenant and Sublease Agreement, the landlord's attorney drafts the Consent Document.
Landlord's consent document is reviewed and signed by all parties (1 week)
Now that we've received the landlord's Consent Document, it is sent to both attorneys to review. Sometimes changes are requested, and you know, back and forth it goes until an agreement is reached. The Consent Document is signed by Sublandlord and Subtenant, and then sent to the landlord for the final signature. Upon full execution, the security deposit is transferred from escrow into the Sublandlord's account, the signed documents are distributed to all parties, keys to your new NYC office space are provided, and that's it. Finito!
Of course, these are only estimates, but allow 6 to 9 weeks for an office sublease to close. It could happen quicker, or it could take longer. Every office space deal is unique. For your specific deal, we can provide a timing estimate, as well as help you avoid the most common delays.
Note: If you're subleasing a private office or desk space in a shared office environment, the deal will close much quicker. Rather than a sublease agreement, usually the rental document is a short and sweet License Agreement, which doesn't require as much legal review as a standard sublease document. And the landlord's consent is not always needed. License Agreements usually close within a week or two.     
6. Account for additional expenses
Have you ever stepped on the edge of a rake and had it swing up and hit you square in the face? Well, that's how you might feel upon finding the perfect NYC office space and receiving a lease, just to learn you have to shell out more dough for unexpected or undisclosed costs. Make sure you know that internet wiring, electrical distribution, air conditioning, cleaning services, and a host of other things could add to your monthly bill or startup costs.
It should come as no surprise that the number one thing businesses take into account when choosing an NYC office space is the price tag. But the base office space rent doesn't reflect the total cost of renting the space. Do your research ahead of time to make sure you don't get surprised by ancillary fees.  
Before you make an offer to rent office space in Manhattan, or anywhere else, it is important to run a cost analysis, which should include base rent escalations for multi-year leases. Apart from costs associated with your new lease, remember to factor in relocation costs, and ask up front whether there are any charges for moving in or moving out. And if you plan to move on the weekend, there could be an additional charge for reserving the freight elevator and overtime for the building superintendent. Be sure to ask.
How much is a security deposit for office space in Manhattan?
There is no single answer. A lot of factors have to be considered, but the financial strength of the company signing the lease is the primary one. From a landlord's perspective, a startup with no financial history is more likely to default on a lease than an established company with many assets. Therefore it stands to reason, the startup would be required to pay a higher security deposit.
In any case, the minimum security deposit for a stand-alone, private NYC office space is usually 3-months. That's the starting point. If the company's financials are not strong, add a couple months. If the landlord is doing costly construction work for the tenant, add a couple more months.
In addition to the cash security deposit, landlords in Manhattan usually require a Good-Guy Guarantee, which is a limited personal guarantee. It's limited in scope because, if the company vacates the space and the rent is paid up to date, the guarantor is released from liability. But if the company stops paying rent and continues to occupy the space, the Good-Guy Guarantee provides the landlord with some leverage. So be a good guy and move out. An attorney should review the Good-Guy Guarantee to ensure your interests are as protected as possible.  
If you're only renting a private office or two within a shared office space, the security deposit should be less. Of course, the Sublandlord will determine the amount based on the financial strength of the company, but 1-2 months is often sufficient.
7. Know what's negotiable and what's not
Don't make the mistake of thinking "everything is negotiable." It sounds good, but it's not true. Some things are, some things aren't, and other things are more negotiable than others.
You can usually count on the asking price of office space in NYC to be negotiable, assuming the other deal points of the lease aren't perceived as over the top or excessive. The lease term is also negotiable within certain parameters. Other negotiable items include the lease commencement date, existing furniture, construction work, and sometimes the percentage of the base rent escalation and free rent. What's not usually negotiable are real estate tax increases, the electricity charge, and other building pass-through charges, like water, sprinklers, and trash removal.
In addition, the intended "use" of the office space is not always negotiable either. For example, some buildings only allow fashion showroom tenants, while others won't allow high foot-traffic companies like staffing firms, casting agencies, or even coworking companies. Lots of people coming and going throughout the day puts additional wear and tear on the building -- elevators become congested, bathrooms get overcrowded.
Bonus Tips - Touring NYC Office Spaces
You can get a feel for how an office looks online, but when it comes down to it, the only way to know for sure is to see it in person. Once you've narrowed down your list, schedule a tour of the best office spaces for rent. Keep an eye out for office tenant's most common complaints when renting an NYC office space, which include:
Crowded elevators
Poor air conditioning
Shabby hallways
Inefficient layouts
Street noise
Grody bathrooms
It's always a good idea to discuss these potential issues with an experienced office space broker to understand how to deal with them. There are a number of other things to be on the lookout for during your office space tour (which usually takes between one and two hours).
Check out the surrounding area
Be nosy! Check out who your neighbors would be. If you're a modeling agency and you move next to a weight loss clinic, things could get awkward. Would you like to have Fredo's Fresh Fish Market conveniently located below your window? How about a dance studio above you? And it's usually not a good idea to move into a building with your company's biggest competitor, either -- you might not even want to be on the same block.
Stop, look, listen. Take note of potential distractions. Could the symphony of car horns on Varick Street mess with your team's workflow? Is the office located next to some of New York's Bravest? We love them dearly, but the sound of fire trucks won't help your presentation. But if street noise is inevitable (we are talking Manhattan here), look into soundproofing options. There are many available.
After your office space tour, if you're not familiar with the area, walk around the neighborhood. What restaurants and coffee shops are nearby? Cool bars for Thursday evening happy hour? Public parks for a morning brainstorming stroll? A dog run for Toby the office mascot? Abundant neighborhood amenities will help boost employee satisfaction for your new NYC office space.
Look into parking and bike storage
Driving in New York City is not for the faint of heart, but if you have colleagues who drive to the office, be sure to research the parking situation in the neighborhood. And for cyclists, find out if the office building has bike storage or if there is sufficient storage space in the office. And keep in mind, there are usually rules for carrying bicycles into buildings. But if you Segway to work, we can't help you. Sorry.  
Choose an NYC Office Space that Aligns with Your Corporate Culture
Your business has a unique purpose that your office space should reflect. The look of your NYC office space speaks volumes about your business, so it's important to align your spatial aesthetic with the culture of the company. An investor who arrives for a meeting with an up-and-coming tech startup might feel underwhelmed sitting in a drab, dark room packed with Dilbert-style cubicles. In contrast, notarizing legal documents in your attorney's office while burrowed in beanbag chairs with a rowdy ping-pong match unfolding in the background isn't cool either. This isn't rocket science. Before selecting an NYC office space to sublease, consider what impression the space will make on your clients and investors.
Many companies these days bring their furry friends to the office. Having a dog in the office reduces stress levels (by increasing serotonin in the brain), sparks creative thinking, boosts morale, and sends a message to clients that your company is a welcoming, open environment. If bringing pets to work is a part of your company's vibe, be sure to ask if your office building is pet friendly.
Office Sublets Makes it Easy
Your office space is important. You know it and we know it. It can have a major impact on your corporate budget, employee satisfaction, and perhaps even the success of your business. Whatever your needs are, OfficeSublets is here to help make your search for a suitable office space for rent as quick and easy as possible.
Check out our Custom Office Space Search and let us do the heavy lifting for you. Share your basic requirements with us: your ideal office location, desired square footage, minimum/maximum lease term, and specific layout requirements. We'll analyze your criteria, do some research on current availabilities and office space rents, make some calls the old fashion way, and find the perfect NYC office space to plant your flag. But how much will all this cost you must be thinking? … Zilch. That's right! Our fee is paid by the sublandlord. So let's do this!